August 3, 2016
The Greater Newburyport Chamber of Commerce has been busy this summer celebrating new & expanding businesses in Greater Newburyport.
Check out where our Big Scissors have been:
Sea Bags
– 6 State Street, Newburyport
Not just your ordinary bag. Sea Bags designs and handcrafts tote bags and accessories from recycled sails that have sailed around the world. Have an idea of a bag you have always wanted, Sea Bags will customize a bag just for you. Once a sail, forever a Sea Bag.
Mako Fitness
– 251 Low Street, Newburyport
Newburyport's premier location for all your fitness and wellness needs. Offering a variety of classes from barre, cycle, yoga and various HIIT workouts. The studio is available for rent for private functions and small groups. They are happy to create an inspired movement or spa experience for special events such as birthdays, wedding, team-building or other celebrations.
Spangled – USA
– 20 Pleasant Street, Newburyport
Bringing fashion lovers the highest quality American-made clothing and accessories. American Made, American Style, Always on the Move!
Seaport Signworks
– 18 Graf Road, Unit 10, Newburyport
New, bigger and state-of-the-art equipment. Seaport Signworks has moved from their Salisbury location to the Industrial Park. You need signage – they have you covered: Llarge format digital printing, signs, banners, posters & decals. Vehicle graphics, truck lettering, magnetics, site signs/construction signs, A-frame signs, electric/neon/LED signs, Real Estate signs, carved signs, directional/wayfinding signs. No job to large or to small.
Vaalbara Designs
– 1 Water Street, Newburyport
Specializes in unique, vibrant and environmentally conscious bags handcrafted in California and Newburyport. Thought to be Earth's first supercontinent, Vaalbara is a symbol of the connection between people, environment and culture. Each bag is made with this idea in mind. Our fabrics are collected from every corner of the world and our inner lining is made with recycled plastic bottles.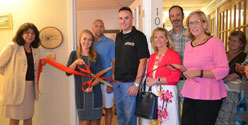 North Shore Acupuncture & Wellness
– 10 Prince Place, Suite 101, Newburyport
A small acupuncture clinic based in both Eastern and Western medicine, specializing in Stress & Pain Management. Abigail is trained in both Chinese and Japanese acupuncture styles, Orthopedic acupuncture, and Shakuju Therapy. With this range of treatment styles, she is able to meet a broad range of patient needs. Whether you have a stubborn musculoskeletal complaint, or are overcome with anxiety; whether you are a seasoned acupuncture patient or are terrified of needles, Abigail will be able to offer you a variety of treatment options (even non-insertive techniques!).
Pretty Little Things
– 8 Inn Street, Newburyport
Specializing in the latest fashions, shoes, and accessories. They cater to young modern women looking to shop the latest trends with great quality, affordability and customer service. Pretty Little Things' goal is to help you look amazing. From handpicking every item we sell, to searching high and low for the most fabulous new trends, we spread our love for beauty and fashion to you!
When Pigs Fly
– 1 Merrimac Landing, Unit 3, Newburyport
Offering over 30 varieties of freshly baked Artisan & Natural breads as well as a variety of quality products that accompany breads such as butters, olive oils, and balsamic vinegars. Don't forget the cookies, bread puddings, and authentic Bavarian Pretzels. They've got you covered!
Hair We Go Studio
– 73 Main Street, Amesbury
Yes, it's true, Hair We Go Weddings has recently expanded to their own hair salon providing a relaxing salon experience for their clients. From haircuts and coloring to wedding or prom hairstyles and make-up for those very special occasions, Hair We Go Studio and Hair We Go Weddings will make you look and feel beautiful!
Tidewater at Salisbury
- 191 Beach Road, Salisbury
A beautiful community of brand-new apartments with a spectacular view of the beach in Salisbury, MA. Pick from a variety of one- and two-bedroom floorplans featuring in-home washers and dryers, dishwashers, and a private patio. Enjoy covered parking, a swimming pool, and a community fitness center. Then take a short walk or jog down to the Salisbury Beach State Reservation and enjoy the natural beauty of the ocean whenever you like.
Are you a new business to Greater Newburyport, expanding or relocating your business?
Let us help you celebrate! We are excited to showcase your new accomplishments. Contact
Anne Wilt
at 978-462-6680 x13 for details.
Terry Thompson, Vice President of Operations
Greater Newburyport Chamber of Commerce & Industry