The Many Benefits of Chamber Membership
Your Chamber Membership is a Valuable Investment providing many opportunities to help your business grow & prosper!

The Chamber's many Networking Opportunities can help you make valuable business connections. Our Informational/Educational Events - such as our monthly Breakfast Forum Series and the Business Educational Seminars - provide you with tools, guidance and insight on key business issues.

Members can realize tremendous savings through the Chamber's many Marketing and Advertising Opportunities which are exclusive to Chamber members only. We encourage members to take advantage of these unique and affordable opportunities to promote their business. Well-attended Chamber events also provide Sponsorship Opportunities to help your business gain valuable exposure.

The Chamber makes available many Business Services exclusively for members only. And finally, the Chamber serves as an Advocate for our membership by establishing strong relationships with all levels of elected officials, local and state agencies and more.
---
Networking Opportunities

Member Mixers
Monthly networking opportunities hosted by various member businesses at their respective locations. Meet and mingle after hours with fellow colleagues and potential customers. Over 85+ people in attendance on average. Get even more exposure - host a mixer yourself! Contact Anne Wilt at awilt@newburyportchamber.org or 978-462-6680 x13.


Networking Eye Openers
Held on the last Friday morning of every month, these small informal networking meetings afford you the opportunity to connect in a casual setting as well as to introduce yourself and your business to the group. Free for members, limited to 25 people.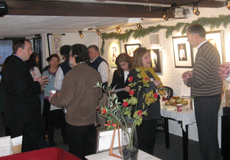 Annual Member Boat Cruise
Join us for our Annual Boat Cruise every August as we sail on the Merrimack River. Enjoy dinner, live music and summer fun. Bring a friend, colleage or make it a summer outing.
---
Informational/Educational Events
Breakfast Speaker Series
Monthly breakfast meetings with informative, well-respected leaders of industry who address the membership on a diverse array of issues. Speakers include economists, state and local elected officials, education leaders and marketing gurus to name a few. Average attendance is 75+ people. For more visibility, you can sponsor a Breakfast for just $375. For more information, contact Ann Ormond at aormond@newburyportchamber.org or 978-462-6680 x15.
Business Educational Seminars
Monthly training sessions and/or panel discussions on various business topics such as marketing and sales, social media, human resources management, financial management, merchandising, networking, and more!
---
Marketing and Advertising Opportunities
Now more than ever, it is time to take advantage of the many effective and affordable marketing and advertising opportunities available to Chamber members only! Click here to view the Marketing and Advertising opportunities.
---
Sponsorship Opportunities
Sponsorship opportunities can be found at the Chamber's many successful and well-attended business and community events throughout the year - such as the monthly Business & Breakfast Series, the monthly Business Educational Seminars, The Chamber's Annual Meeting Luncheon, Spring Fest, Golf Tournament, Riverfront Music Festival, The Wedding Event, Fall Harvest Festival, Health & Wellness Expo and much more.

Sponsoring a Chamber event is a great way to gain valuable exposure for your business, all the while supporting events that help the Chamber promote the Newburyport business community. Click here to view all sponsorship opportunities throughout the year. For more information, contact Ann Ormond at aormond@newburyportchamber.org or 978-462-6680 x15.
---
Business Services
Access to auto insurance discounts.

Conference room privileges at the Chamber office (upon availability).

Complimentary Business Counseling with SCORE, Counselors to America's Small Business, is affiliated with the Small Business Association (SBA) and offers FREE counseling to individuals who would like help starting a new business, or who own a small business and need assistance with any of their business issues. Schedule your appointment today by calling the Chamber office at 978-462-6680. For more info, click here!
---
Advocacy
Established relationships with state, local, regional and national elected officials

Lobbying on key initiatives and legislation impacting business owners and the community as a whole

Involvement with state and local agencies and commissions to ensure Greater Newburyport has a voice on key issues.
---