Arts & Culture in Newburyport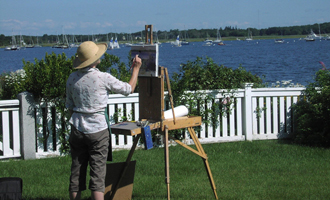 For a small city, Newburyport has an enormous wealth of visual, performing, cultural and literary art resources. Home to renowned artists, writers, performers and musicians, Newburyport offers a vast array of cultural centers and activities. From the Firehouse Center for the Performing and Visual Arts in Market Square to the Maudslay Arts Center in the 480-acre state park, and an abundance of art galleries, Newburyport offers theater, dance and musical productions, visual exhibits and literary events for all seasons.

Newburyport is proud to announce that we are in the process of applying to become a Massachusetts designated Cultural District. A cultural district is a walkable compact area that is easily identifiable to visitors and residents and serves as a center of cultural, artistic and economic activity. Newburyport is a perfect example of a cultural district in so many ways. Wander amongst the downtown area filled with quaint stores, eclectic restaurants, museums, art galleries and so much more. Find out why so many people come back to our shores and downtown year after year. Like us on Facebook to keep informed on the cultural district.
---
Visual Arts
The Newburyport Art Association's is located in a historic building that has been a part of Newburyport's waterfront commerce for 200 years. Today, you will find exhibitions and a gift shop that feature work of over 700 regional member artists in diverse media and styles. NAA's galleries: Sargent and Hartson Galleries and Laura Coombs Hill Gallery at 65 Water Street are open from 11-5, Monday - Saturday and 12-5 on Sundays year round. Art classes are held for adults and children. One Wednesday evening each month, the prize-winning Powow River Poets hold readings for visiting and local poets. Exhibitions, poetry readings and most lectures are open to the public, free of charge. Call 978-462-8769 for more information, or visit www.newburyportart.org.


Art Galleries Newburyport is bustling with cultural activities in any season. There are art lessons for children and adults at the Newburyport Art Association or at one of the many galleries in town. You could spend days strolling through this city's unique art galleries. As you walk to downtown , you'll see galleries featuring paintings, photographs, jewelry and much more. For a complete list of Chamber member galleries, please click here.
Newburyport ArtWalk
is a self-guided walking tour of participating galleries. Galleries are open year round and offer a brochure with map that shows a convenient walking tour of all gallery locations in town.
Click Here
for complete information.

Somerby's Landing Sculpture Park
When downtown, make sure to visit the western end of The Mayor Peter J. Matthews Memorial Boardwalk. The Sculpture Park enhances the visual appeal of the refurbished waterfront area. The exhibit is open all day every day year round, free of charge. Over 250,000 people will see the artwork during the year-long exhibit.


---
Performing Arts
Right in the center of downtown, the Firehouse Center for the Arts offers world class musical and stage productions as well as an ongoing series of art exhibits. The Firehouse Center is situated near the banks of the Merrimack River on Waterfront Park and Market Square. It houses a restaurant, a theater for drama, dance, and musical productions and an art gallery. Its offerings are varied-from Shakespeare to David Mamet, comedians and dance productions, Mozart to jazz, country, folk and rock & roll. The art and sculpture exhibits range from traditional landscapes to still lifes to minimalism and abstract expressionism. Call 978-462-7336. www.firehouse.org.


---
Blue Ocean Music Hall
4 Oceanfront North, Salisbury Beach MA 01952
978-462-5888 www.blueoceanhall.com
Blue Ocean Music Hall offers a new wave in year-round live entertainment! Get up close to your favorite performers at this new state-of-the-art oceanfront venue where most of the 468 seats are within 50 feet of the stage. Showcasing nationally known bands from today as well as beloved artists from the past. Table service, including a limited menu and full selection of beverages, is available during the shows. Dine before or after the show at the neighboring Seaglass waterfront restaurant located adjacent to the Music Hall.
This is an Enhanced Listing via the chamber's Marketing Program
---

Newburyport Choral Society
Newburyport MA 01950
978-884-2464 www.newburyportchoralsociety.org
The Newburyport Choral Society offers concerts throughout the year featuring classics and contemporary pieces. One hundred fifty member regional auditioned chorus presenting two yearly concert series of choral masterworks.
This is an Enhanced Listing via the chamber's Marketing Program
---
Newburyport MA 01950
Newburyport Cultural District Facebook page
Newburyport is proud to announce that they have been recognized as a designated Cultural District in Massachusetts. The Massachusetts Cultural Council (MCC) board voted unanimously to approve a state designated cultural district in downtown Newburyport - the fifth cultural district on the North Shore and the nineteenth statewide.
A cultural district is a compact , walkable area of a community with a concentration of cultural facilities, activities and assets. MCC's Cultural District's Initiative grew out of an economic stimulas bill passed by Massachusetts Legislature in 2010. It is designed to help communities attract artists and cultural enterprises, encourage business and job growth, expand tourism, preserve and reuse historic buildings, enhance property values and foster local cultural development.
The Newburyport Cultural District is positioned at the center of a historic and thriving waterfront community. Located just 35 miles north of Boston and easily accessible by commuter rail, Newburyport is often cited by preservationists as an example of how to maintain a city's architecture and heritage, while remaining functional and vibrant. Newburyport is a perfect example of a cultural district in so many ways. Wander amongst the downtown area filled with unique art galleries, quaint stores, eclectic restaurants, museums and much more. Find out why so many people come back to our shores and downtown year after year.
Anchored by a vibrant waterfront, the district features a highly functional urban design, unique cultural destinations, and numerous arts-oriented retail businesses. Sustained by a stable local economy and propelled by active leadership and engaged citizenry, Newburyport is well positioned to embrace and support this new designation.
Find us on Facebook to keep informed of the activites in the cultural district - Newburyport Cultural District.
This is an Enhanced Listing via the chamber's Marketing Program
---
Maudslay Arts Center is a popular cultural and entertainment destination that has served thousands of patrons since 1992. Situated in a picturesque corner of the 480-acre Maudslay State Park in Newburyport, the MAC is best known for its outstanding summer concert series. However, from mid-May through mid-October, it is also a popular setting for a variety of special events. The setting inclues a natural amphitheater with superb acoustics for outdoor concerts, and a number of restored outbuildings that house a variety of indoor activities (including performances in inclement weather.) Call 978-499-0050 for more information. Visit www.maudslayartscenter.org.


Theater in the Open celebrates its 28th season and its 23rd year at Maudslay State Park. Each season this company of actors and artists presents three outdoor productions and one indoor production for the holidays. Each year the season opens with a giant puppet pageant "The Rites of Spring" and offers a haunted Halloween walk, "Maudslay is Haunted." The company of actors and artists range in age from 6-60 and offers summer arts workshops for children and teens. Recipient of the 1999 Mayor's Arts Award. Call 978-465-2572 for more information. Visit www.theaterintheopen.org.



North Shore Music Theatre
- Since 1955, NSMT has become one of the most attended and best loved theatres in New England, with approximately 250,000 patrons annually. With a national and regional reputation for artistic achievement, NSMT has received numerous industry awards including Elliot Norton Awards, IRNE Awards, the Rosetta Le Noire Award from Actors' Equity, and the Moss Hart Award. Under new ownership in 2010, NSMT continues to annually produce a musical subscription series and an annual production of A Christmas Carol along with celebrity concerts and children's programming. Cal 978-232-7200 for more information. Visit
www.nsmt.org
.
Music and Dance - Throughout the year both the middle and high schools feature well known folk, a cappela and jazz acts. The many acting and dance studios in town including the Actors Studio regularly hold performances at their studios, at the Firehouse or at other venues in the city.

There are numerous free outdoor concerts throughout Newburyport in the summer months.
---
Literary Arts
The Newburyport Literary Festival
A celebration of literature, readers and writers takes place annually in April. The festival draws more than 50 authors. Over 3,000 attendees enjoy dinner with the authors, readings, panel discussions, book signings and related events throughout the downtown. Visit their website! www.newburyportliteraryfestival.org.


Newburyport is home to many award-winning writers whose work includes fiction, non-fiction, biography as well as books for children. Independent book stores hold authors' readings and book signings. Poetry readings are hosted at many venues throughout the city and the Powow River Poets have bi-monthly readings (on the odd months of the year) at the Jabberwocky Bookstore at the Tannery Marketplace.