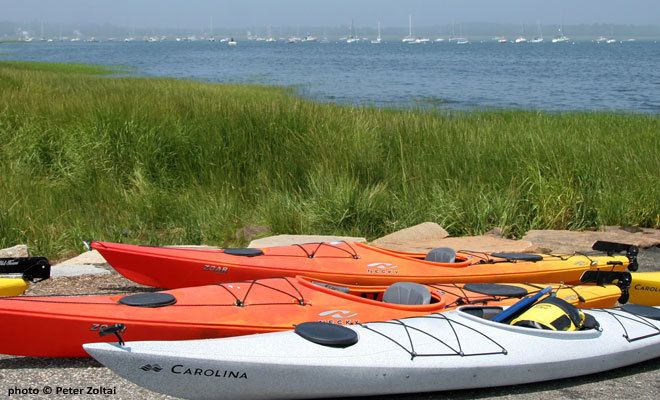 Newburyport Recreation for All Seasons
Newburyport offers year-round recreational opportunities for all ages. Try sunning on the beaches of Plum Island, cross-country skiing in winter's snows at Maudslay State Park. Walk and hike along the beaches, through marshland and into woods. Fishing boat expeditions into the ocean and surfcasting along the shore, windsurfing, boat trips, and ocean kayaking are ways to enjoy the river and sea. Horseback riding at Maudslay, bicycling, running, jogging or walking around the flat streets, rail trail and parks of our city are popular pastimes. Spend time at a local farm picking your own fruits and flowers or stop in at the newest farmer's market.

For Information on Newburyport Tours, click here!
Walking and Hiking
Walk and hike along the beaches of Plum Island, through marshland of the Parker River National Wildlife Refuge, and into the woods of Maudslay State Park. Stroll along High Street and admire the Federal Mansions or watch the boats on the Merrimack as you make your way down the boardwalk. Take a leisurely walk or ride your bike along the recently completed Clipper City Rail Trail while enjoying the extensive public art installed along the corridor.
We are proud partners of the Clipper Heritage Trail! Check out their website for more information on another great way to see the best of Newburyport. The Clipper Heritage Trails are a series of self-guide history tours of Newburyport. Step back in time and walk in the footsteps of shipbuilders and sea captains; bakers, clam diggers and comb makers; silversmiths and soldiers; abolitionists and African Americans; and authors and artists. Explore the hidden corners of a destination where the first settlers of Newbury landed in 1635 on the northern shores of the Parker River.


Beaches
Plum Island offers miles of public sandy beaches and the Parker River National Wildlife Refuge, home to over 800 species of birds, plants and animals on 4,662 acres. Plum Island Point offers views of the inlet to the Merrimack River, surf fishing, a historic Lighthouse, and deep-sea fishing/party boats. Sandy Point on the southern tip of Plum Island is a State Park and a wonderful place to swim, sun yourself or go tidepooling. Parking is available at the Refuge, the Point or in private parking lots. Fee Charged. Refuge information 978-465-5753. Near-by beaches include Salisbury State Beach Reservation and Crane's Beach in Ipswich.


Fishing
There are plenty of fish to be caught in the Merrimack River and off shore. If you enjoy fishing, you can cast your lines off the shore of Plum Island, or sign up for an off-shore excursion with the Captain's Fishing Parties, Rocky Point Fishing Charters or the Two Captain's Charters.

The north end of Plum Island offers spectacular views of the inlet to the Merrimack River, surf fishing, an historical lighthouse, and deep-sea fishing/party boats. Parking is available at the Refuge, the Point or in private parking lots. Fee Charged. If you enjoy fishing, you can cast your lines off the shoreline on Plum Island, or sign up for an off-shore excursion.
---
Whittier Home Association
86 Friend Street, Amesbury, MA 01913
978-388-8888 http://whittierhome.org
The Whittier Home Association acts as steward for the preservation of collections, structures, and grounds of the John Greenleaf Whittier Museum in Amesbury, Massachusetts. The Whittier Home Museum is open from 11am to 4pm (last tour 3:30pm) on Saturdays, from May through October.

This is an Enhanced Listing via the chamber's Marketing Program
---
Bicycling
Bicycling, running, jogging and walking around the flat streets of the city are popular pastimes. Bicycles may be rented right in downtown Newburyport at Riverside Cycles! Experience Newburyport in a whole new way by trekking around town, throughout Maudslay State Park or head down to Plum Island. Bikes can be rented for 2 hours, half day, full day, weekend, week or month! Groundswell Surf Cafe has all terrain beach bike rentals. Cruise on the sand and the pavement with these fat tire beach cruisers. 2 hour, 1/2 day or full day rentals available.

Boating, Windsurfing and Kayaking

Newburyport's Mayor Peter J. Matthews Memorial Boardwalk along the river in the heart of downtown, offers the public a chance to view the boating activity of the harbor. There are whale watch cruises with Newburyport Whale Watch, deep-sea fishing boats, evening party boats, public docks, sunset cruises, and harbor tours. Numerous yacht clubs and marinas are within a short distance of downtown. Check the Newburyport Harbormaster's website for boating information. Click Here.

Windsurfing and kayaking are ways to enjoy the river and sea. In the summer, the Merrimack River is full of boats, you don't have to have your own to enjoy the beauty from the water. Instead, you can take a narrated harbor tour with Yankee Clipper or Merrimack River Cruises or charter a sailboat with Defiance Sail Charters or take a cruise on the Essex River with Essex River Cruises.

A short half-hour drive will bring you to historic Gloucester, where you can join the crew on the 65-ft. Schooner Thomas E. Lannon. Help raise the sails or just sit back and relax as you sail past lighthouses, castles, beaches and magnificent waterfront homes. Defiance Sail Charters offers crewed sail charters aboard 49' Hinckley Ketch. Day (10 pp. max.), overnight (5 pp. max.), bed and breakfast dock-side! They'll meet you at the dock in Newburyport.

Enjoy a day with Compass Rose Yacht Charters - When you step aboard their magnificent 35' Tiara Yacht "GIA", you will leave behind all your cares and begin experiencing the seafaring excitement of yachting at its finest. Family Vacationers and Small Corporate Groups will experience the Natural Beauty on the Ocean, from Picturesque Harbors and Rivers, to cruising along the North Shore Coastline. Hourly, half day, full day packages available.

For a truly unique experience take a trip aboard the Ninth Wave catamaran, run by Ninth Wave Sailing Charters, the first commercial sailing vessel built in Newburyport in 100 years.

Looking to spend the day at the beach? Well, Groundswell Surf Cafe has everything you need. Located directly on Salisbury Beach offering everything from breakfast sandwiches to acai bowls to smoothies to locally produced coffee. Their SUP board rentals, yoga classes and bike rentals make it easy to stay active and explore beautiful Salisbury beach.

Newbury Kayak & Canoe has everything you need for a day out on the water. Recreational kayaks, both single and tandem, durable canoes, and light weight SUPs for adults and kids, as well as tandem SUPs for those who like company. Look for lessons - they do that as well. Stand up paddle board yoga session, SUP and kayaking lessons taught by world class kayakers.

Plum Island Kayak offers Kayak adventures for beginners to experienced enthusiasts. Rent kayaks hourly or join one of the guided river, wildlife refuge or open water tours. Trips to the Isles of Shoals are also available, as well as seal paddles and full moon paddles. Transportation to and from all kayaking locations will be provided.

Boats can be rented from Lowell's Boat Shop. If you're not ready to purchase your own boat, consider joining the Freedom Boat Club, membership based boat club. Members are entitled to unlimited usage on a variety of boats. FBC members also have access to boats in over 55 locations.

Boat Launching
Boat launching areas are located in Cashman Park, off Merrimac Street and in Joppa Flats Park on Water Street. Visit our member Marinas & Boat Yards.

Boat Education
Learn to sail, fish or kayak from experienced teachers and crew. Merrohawke Nature School offers marine environmental education programs for children and families aboard the Erica Lee.

Local Farms
Newburyport is surrounded by farms and farm stands selling produce and "pick your own" fruits and flowers. Locally made ciders, pies and other delicacies will tempt you to make a return trip - and to stock up on your way home. The Newburyport Farmers' Market
is open every Sunday Spring through Winter. Located in the main parking lot of the Tannery Marketplace on Water Street, look for fresh fruits and vegetables in season from our local farmers, and enjoy delectables from local food preparers and artisans. You can even purchase locally produced wine. Visit the family friendly Spencer - Peirce - Little Farm to see sheep, goats, chickens and alpacas. Learn about life on a farm over the centuries through hands - on activities. This 230 - acre site fosters farm animals in partnership with the MSPCA.
Golf
Should you want to practice your swing, there are many opportunities in the area. Click here for a listing of golf clubs open to the public. Beautiful vistas and challenging courses await you in the Newburyport area. Pack your clubs!

Horseback Riding and Cross Country Skiing
Horseback riding is a popular activity at 480-acre Maudslay State Park.

Tennis
Tennis courts are located at Atkinson Common, at the Three Roads intersection, Cashman Park on Merrimac Street, The Rupert A. Nock Middle School on Low Street, and Perkins Playground on Beacon Avenue in the South End.

Youth Services
Newburyport Youth Services, a division of the City of Newburyport, works to provide the community with healthy recreational activities for youth and families. These activities include seasonal classes, the Middle School Drop-In Center, the Newburyport Skate Park, summer programs and year round events and activities for teens. For more program information and a calendar of events, check out www.newburyportyouthservices.com.
Parks of Newburyport
Newburyport has over 10 beautiful parks in which you can walk, hike, picnic or simply sit and peacefully reflect. They are a source of pride in our community and Newburyport considers itself a steward of these special places and maintaining them is a priority. They are even award – winning! For two consecutive years in a row Newburyport and the chamber was a recipient of America In Bloom's top award for our floral displays and park preservation. We invite you to immerse yourself in the beauty of nature.
Clipper City Rail Trail
The Clipper City Rail Trails is a 1.1 mile multi-use pathway running between the MBTA commuter rail station and the shoreline of the Merrimack River in Newburyport. The trail is a multi-use pathway for walkers, bicyclists, and other non-motorized users. In a relatively short distance, the trail passes through a variety of environments including the waterfront, a residential neighborhood, and an industrial park. The Rail Trail connects to Cashman Park along the river via a boardwalk. There are a number of stairway and spur trail connections to side streets, as well as various bakeries, coffee shops, and restaurants located a short distance away. The trail has a distinct and attractive character due in large part to the extensive public art the city has installed along it. Narrative signs along the way illustrate the history of the railroad in Newburyport. For more information, visit the website.

Maudslay State Park Curzon Mill Road 978-465-7223. A 480-acre state park with 19th century garden plantings, rolling meadows, pine forests and mountain laurel. Guided tours, trails for walking, hiking, horseback riding, and cross-country skiing are available to the public. A seasonal outdoor theater and performance center are on the grounds. A real gem along the banks of the Merrimack River.

Waterfront Park A good meeting place in the heart of downtown, the park provides benches for viewing the activities of the harbor and people watching. It is home to the Summer Concerts and other activities.


Atkinson Common High Street at Moseley Avenue (3 roads come together) - gardens, walking and biking paths, tennis courts, gazebo - even a stone tower.

Atwood Park Atwood and School Streets. Basketball, tennis courts and open space.

Bartlet Mall High Street between State and Green Streets. The Superior Court House, designed by Bulfinch in 1805, sits in front of the glacier-formed Frog Pond featuring a fountain in its center. The Bartlet Mall and Frog Pond is the City of Newburyport's most visually prominent municipal park. The 7.3 acre park is an easy walk from the central business district. Its walkways and main promenade are a prime destination for runners, strollers and dog walkers. Situated beside The Mall is The Frog Pond Playground which features swings and a multi-age play structure.
Brown Square Pleasant Street across from City Hall. A 200-year-old park that sits in the heart of downtown. It is named for one of Newburyport's most illustrious citizens, Moses Brown - a major landowner, shipbuilder, and rum-trader. There were several anti-slavery gatherings in the square. The square has a memorial statue of William Lloyd Garrison as well as a veterans' memorial recognizing those who served in World War I, World War II, the Korean War and Vietnam Conflict.

Cashman Park Pop Crowley Way (off Merrimac at Broad Street). Waterfront on the Merrimack River with an enclosed toddler play area and nautical themed play structures. Lots of open space, tennis court, basketball court, ball field and soccer fields.

City Forest Hale Street and Turkey Hill Road. Walking loop and open space.

Cushing Park Washington Street between Buck and Congress Streets. Features a new playground and a basketball court.

Hale Park Water Street between Marlboro and Harrison Streets. Privately owned, passive park open to the public from dawn to dusk. Lovely landscaping and spectacular river views.

Inn Street Playground Downtown playground designed for toddlers and young children.

Jason Sawyer Playground Plum Island Point. Multi-age play structures steps from the beach.

Joppa Park Water Street. Views of the harbor from along the seawall. A Great place to put in your kayak.

March's Hill High Street at Bromfield Street. Basketball court and great winter sledding.

Moseley Woods This park overlooks the Merrimack River at the crossroads of Merrimac and Spofford and Moseley streets. This 16 acre park features hiking trails, picnic tables, a well-equipped playground and a spacious pavilion that is home to a summer concert series. A haven for nature lovers, dog walkers and children. Please see the Moseley Woods website for more details.

Newburyport Skate Park Located behind the Rupert Nock Middle School on Low Street. Designed to accommodate many levels of ability from beginner to expert. The Skate Park is open Monday-Friday 2:30 pm - 8 pm (or sunset, whichever comes first); Saturday 9:00 am - 8 pm (or sunset, whichever comes first); Sunday 1 pm - 5 pm.

Old Town Hill Located on Newman Road in Newbury. The central feature of this unique, half-upland and half-marine reservation is the 168-foot drumlin known as Old Town Hill. Trails lead through surrounding salt marsh, along the Little River, beside small tidal creeks, and up Old Town Hill to its summit which affords views of the Parker River National Wildlife Refuge, and the Isles of Shoals.

Perkins Playground Beacon Avenue in the South End. Basketball and tennis courts, softball field and a playground.

Woodman Park Crow Lane in the West End. Wooded play area,
basketball court and playing field.

For more information contact the City's Park Administrator,
Lise Reid at 978-463-3545 or visit the City of Newburyport website.