Accommodations for all Seasons
Most visitors want more time in the charmed atmosphere of Newburyport. For a weekend getaway or a longer vacation, many choose to stay in town at one of the city's historic inns or bed & breakfasts. Overnight stays in Newburyport are truly a treat. Most of Newburyport's inns and B&B's are housed in historic buildings and retain the flavor of old Newburyport, and among them offer every type of room, suite or fully furnished apartment. Experience our city's rich history at one of our inns and B&B's.
Please note: The following is an enhanced listing of participants in the chamber's Marketing Program.
For a complete list of chamber members please click here.
---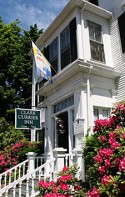 The Clark Currier Inn
45 Green Street, Newburyport MA 01950
978-465-8363
8 Room Bed & Breakfast w/private bath, AC, and afternoon tea. Gardens with gazebo and outside sitting areas. Children 10 and above welcome.



---
Compass Rose Inn
5 1/2 Center Street, Newburyport MA 01950
978-675-6660
www.compassrosenewburyport.com
An elegant 5 suite inn located on a quiet side street one block from both Market Square and Newburyport's active and scenic waterfront. This newly constructed federal mansion offers period ambiance with state of the art comfort and convenience.
---
Country Garden Inn & Spa
101 Main Street, Rowley MA 01969
978-948-7773
www.countrygardeninnandspa.com
On scenic Route 1A; over 4 acres, consisting of motel units, inn rooms, cottages & townhouses, many with jacuzzi & fireplaces. Featuring in-room massages. All rooms equipped with AC, color TV, HBO & complimentary Wi-Fi, local phone calls and continental breakfast. Seasonal outdoor heated pool, enclosed spa and fitness center. Treat that special person in your life to a night to remember.
---
Essex Street Inn
7 Essex Street, Newburyport MA 01950
978-465-3148
The Essex Street Inn is a stunning and comfortable Inn located in the heart of historic downtown Newburyport. The Inn, containing 37 beautifully appointed rooms and suites for both business and pleasure, is steps from casual and elegant restaurants, fine and funky shopping and the famous waterfront.
---
The Sanctuary's Private B&B Retreat
75 Scotland Road, Newbury MA 01951
978-358-8499
The Sanctuary's Private B&B Retreat and Other Rentals is a unique alternative to traditional B&Bs, hotels, or renting a home. A charming, bucolic cottage-like ambience fully and comfortably furnished with glass garden conservatory/living room /dining room/office meeting room, two bedrooms, full bath, galley kitchen and two private entrances. When you stay at the Sanctuary, you are the 'exclusive' guests – with total privacy. The Sanctuary offers stillness and peace to all its visitors and is renowned for tens of thousands of miracles that have occurred for decades at the Lenair Self(s) Healing Center, which is also home to the Sanctuary. The Sanctuary also offers beautiful garden daytime rental space ideal for your class, workshop, meeting, or small gathering.
---
Newburyport Vip Program
The Newburyport VIP Program is a chance for you to help Greater Newburyport Small Businesses by using this coupon card when you shop small and support local. When you do this, Newburyport.com VIPs will reward you with special privileges, by offering discounts and special giveaways within our community.
Support Local & Save; use them at places to Eat, Shop, Stay, and Experience. Everyone loves them because along with the Newburyport Gift Card, they are redeemable at fabulous and diverse groups of local businesses - including retail shops, restaurants, salons, inns, galleries, toy stores, and more.
Shop Local & Save to keep your community vibrant & healthy.